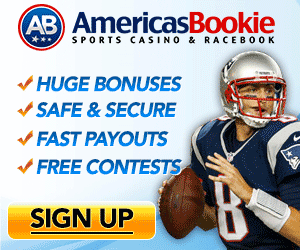 Betting the NFL has become a tough gig to follow but that doesn't mean any of us are going to stop betting this game we love. The NFL has been crazier than ever this season and who knows from week to week who is going to win? Anybody can beat anybody, on any given Sunday. What we must all do as avid NFL bettors, is to take full advantage of online bookmakers that have the best lines and odds. In order to do this, we must shop around for not only great sportsbooks but for great odds. What makes a great sportsbook is their sharp lines. We can't live without them and every half a point here and half a point there matters. 
America's Bookie – Get Real Time Sports Odds for all your Sports Betting needs
No matter what sport that you enjoy betting on, whether it's the NFL, NCAA Football, the NHL, the NBA, or even NCAA Basketball, you must find the tight lines, the best odds, and bookies that offer them. 
Smart bettors start out with at least two online bookies. They use one for cash and the other as a bonus account. You must keep a deposit in both books and be payout eligible in the cash account at all times. This means having your paperwork taken care of, having your T's crossed and your I's dotted and having all of your ducks in a row. 
"Payout Eligible"—
With every online bookie comes payout rules. When you sign up with a online bookmaker you must ask them what their rules are and how you can become payout eligible. For the cash account, this is an easy task. What you must do on signup is send in a copy of your ID, a copy of a credit card if that's how you paid and your address and phone information. Again, ask the bookie what the rules are and be payout ready the day you signup. The worth thing in the world is to hit a big bet and you're all excited and you click the button for a payout and it says "sorry". Don't let this happen to you.
Football Betting – NFL Game Props
For the bonus account, the rules are different. You still need all of the paperwork and the ID and all that goes along with your bookie's basic rules for payouts, but you must remember, with a bonus comes rollover and you must meet all of your bookie's rollover requirements before taking a payout. ASK them before taking a bonus. Call the bookmakers 800 number and ask. If they do not have an 800 number that you can call from the United States, DO NOT do business with them.
Lines and Odds—
Having more than one online bookie is imperative if you want to win on a consistent basis. Find a few great bookmakers that come with a standup reputation for the sharpest lines and true odds. Look to review sites and player forums for the best advice. Every dollar counts, especially when it comes to betting on the NFL. We won't ever stop betting this great game but we will absolutely stop throwing our money away on bad lines. Shop around, have a couple of bookies that give you the best deal and you will see a big difference in your bottom line.